Extech Teams Up with ElectricalManuals.net to Grow Peer-to-Peer Manuals Resource
Related Links

Download this press release as an MSWord document (75 KB ZIP)

Newswire version

ElectricalManuals.net Website
---
(Waltham, MA, USA) Extech Instruments, (www.extech.com), makers of the best handheld test and measurement tools, announced it is teaming up with ElectricalManuals.net to encourage technicians to upload product manuals on the premier peer-to-peer electrical-related product manual online resource. Now through February 28, 2010, every manual uploaded enters a user into a drawing for an Extech EX623 AC/DC 5-in-1 clamp meter featuring an exclusive, built-in infrared thermometer ($229.99 value).
About ElectricalManuals.net
ElectricalManuals.net was founded by electrical professional Jonathan Hulsman: "ElectricalManuals.net was launched in response to a need by electricians and plant technicians who needed access to manuals for electrical equipment, especially older equipment. With thousands of members, the response has been terrific. We're pleased to work with Extech Instruments to offer this versatile clamp meter as an incentive to grow the site with more user manuals."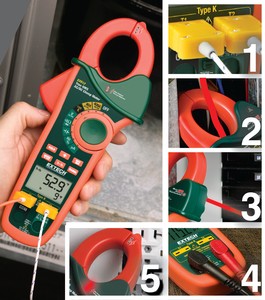 EX623 prize offers the convenience and versatility of 5 meters in one instrument

The website, www.electricalmanuals.net, aggregates manuals for diverse electrical components including: automatic transfer switches, batteries, control devices, drives, fuses, generators, low/medium/high voltage equipment, PLCs, power monitors, power quality, protective relays, test equipment, training, transformers, and UPSs.
The site's historical company name directory also helps technicians by cross-referencing retired brand names of older components with current companies that may have since acquired those brands. A user forum helps users discuss challenges or questions and a media section provides interesting video and images of electrical-related topics

About Extech Instruments, a FLIR Company
Extech Instruments is recognized as the source for the best handheld test and measurement tools worldwide. Founded in 1971, Extech is known for its depth and breadth of innovative testers and meters suited for electrical, HVAC, building/restoration, as well as a host of environmental testers for measurement of sound, light, humidity and other factors. All Extech meters are distributed worldwide through leading representatives, distributors and OEMs. The company is headquartered in Waltham, Massachusetts, USA and is ISO 9001 2000 certified. Extech is a wholly owned subsidiary of FLIR Systems, Inc.
---
Related Links

Download this press release as an MSWord document (75 KB ZIP)

Newswire version

ElectricalManuals.net Website

Contact:
André Rebelo
Global PR Manager
Extech Instruments, a FLIR Company
781-434-3901
andre.rebelo@extech.com