Extech's EX623 5-in-1 Clamp Meter: A Smart Tool and a Smart Buy for Plant Maintenance Professionals
Waltham, MA (March 20, 2009) -- Extech Instruments, (www.extech.com), a subsidiary of FLIR Systems, Inc., (NASDAQ: FLIR) presents the versatile EX623 5-in-1 clamp meter specifically designed for plant, HVAC/R and electrical professionals in commercial, institutional, and industrial settings. No other clamp meter offers the convenience and versatility of 5 meters in one instrument: AC/DC "amp clamp" meter; advanced, True RMS multimeter; exclusive infrared thermometer (Extech-patented); non-contact voltage detector; and dual input Type-K thermometer.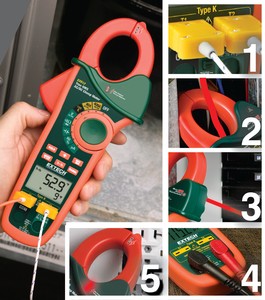 Extech's 5-in-1 clamp meter is a smart tool and a smart buy for plant maintenance professionals. The EX623 accurately measures AC and DC current, voltage, and temperatures for troubleshooting both new installations and preventive/ongoing maintenance and repairs. The EX623's infrared thermometer and laser pointer make temperature readings simpler and safer. And, having two Type K thermocouple inputs make superheat and sub-cooling temperature measurements easier to perform. The DC microamp function is ideal for flame rod current measurements and the EX623's generous 36mm jaw opening handles conductors up to 500MCM. The EX623 makes users' everyday installation, diagnostic, and maintenance tasks simpler and easier -and with less toolbelt/toolbox clutter.
Multifunction Design: Ahead of the Pack
Market research firm, Frost & Sullivan recently forecasted a rise in combinational testers as one major price-driven trend in test and measurement. Extech has been on the leading edge of this trend for several years, adding exclusive, patented infrared thermometer capabilities into a broad range of testers and meters. Extech's remarkable EX623 combines multiple relevant functions in one tool so technicians get more while spending less. For example, a plant professional can opt for an Extech EX623 patented 5-in-1 clamp meter instead of buying a clamp meter plus numerous other test tools. Designed by customer feedback, users increasingly demand multi-function capabilities in one device with no compromises.
International Award Winner
The EX623 5-in-1 clamp meter was awarded the Gold Industrial Electronics Innovation and Technology Award at one of the world's biggest electronics event, the 28th annual Hong Kong Electronics Fair.
Judges remarked that with the current economic conditions, they were looking for products that are not only built to exceed the demands of customers, but also to meet their budget requirements. By offering one meter that functions in the place of five, the EX623 delivers both high functionality and high value for customers who need to get more and spend less.
Extech's extensive catalog covers sixteen product categories including airflow meters (anemometers); moisture and humidity meters (hygrometers and psychrometers); fiber optic, light and sound meters (including dosimeters); water quality meters; gas detectors; pressure meters; calibrators; thermocouple thermometers; voltmeters; and numerous other test and measurement devices. Well-known for its innovation-focused approach to product development, Extech has aggressively implemented built-in infrared technology across its product range. (Extech holds five patents incorporating infrared (IR) in measurement instruments.) Visit www.extech.com for a complete product listing.
Photo Key:
1. Dual-input Type K Thermometer for one-button delta-T measurements
2. Wide-jaw AC/DC Clamp Meter for current measurement
3. Exclusive Infrared Thermometer with laser pointer for safe, non-contact temperature measurements
4. True RMS Digital Multimeter with comprehensive measurement functions
5. Non-Contact Voltage Detector helps you safely identify energized wires before starting a job
About Extech Instruments, a FLIR Company
Headquartered in Waltham, Massachusetts, USA, Extech Instruments is one of the largest suppliers of test and measurement equipment worldwide. Founded in 1971, Extech is known for its depth and breadth of products and its innovation in providing instruments with unique combinations of features that make them highly useful and very convenient. All Extech meters are distributed worldwide through leading representatives, distributors and OEMs. The company is ISO 9001 2000 certified and is a wholly owned subsidiary of FLIR Systems, Inc.
Contact:
André Rebelo
Global PR Manager
Extech Instruments, a FLIR Company
781-434-3901
andre.rebelo@extech.com